Seanchairde / Old Friends
Tara Diamond, Dermy Diamond, Dáithí Sproule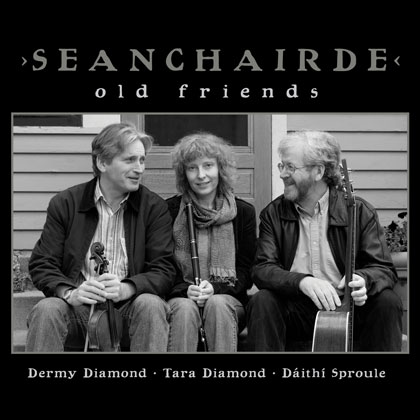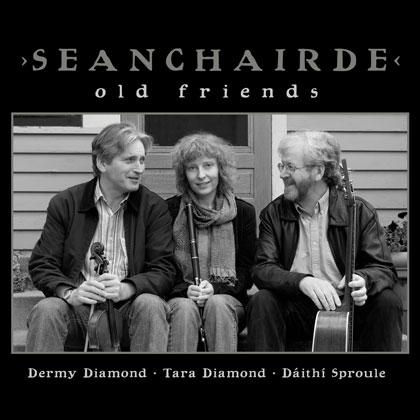 Danny O'Donnell's · The Cedars of Lebanon · The Milliner's Daughter 3:38
The Humours of Glynn · The Cordal Jig · Paddy Taylor's Jig 3:50
The Belle of the Ball, If There Weren't any Women in the World 4:12
The Boy in the Boat · The Boy in the Gap 3:37
Madam Maxwell 3:43
The Woods of Old Limerick · Statia Donnelly's 3:34
Maggie Pickens · Barny Bhrianaí's 2:47
The Parting Glass 4:00
Miss McGuinness · The Stoney Steps 2:15
Paul Ha'penny · The Plains of Boyle 3:15
Up and About in the Morning · An Rógaire Dubh 4:14
The Return of Spring · The Mountain Path 3:59
The Lady on the Island · The Sailor on the Rock 2:49
Shandon's Bells · Condon's Frolics 3:24
The Three Scones of Boxty · Little Katie Taylor 3:21
The Tunes:
1 reels: Danny O'Donnell's, The Cedars of Lebanon, The Milliner's Daughter · The second two tunes of this 3-reel combination were learned in Belfast in the early 1970s from our old friend Andy Dickson. The Cedars of Lebanon was composed by Sean Ryan, the Co. Tipperary fiddler and composer of many fine tunes, while The Milliner's Daughter is a popular reel known in many versions. The first tune is a 'D' setting of a reel we learned from the great Donegal fiddle player, Danny O'Donnell. Danny played it in 'A' but we have transposed it to 'D'. It is closely related to The Turnpike Gate, also known as Kilannan's Fancy, which is a much more common tune played in 'G'.
2 jigs: The Humours of Glynn, The Cordal, Paddy Taylor's · We first heard these three jigs played together by the great Cork/Kerry fiddle players Connie O'Connell, Nicky McCauliff and Denis McMahon. According to O'Neill (1001), the Humours of Glynn (or Port Chuilinn), is an old tune dating from the early 1700's composed by Pierce Power, from Glynn, Co. Waterford. The Cordal jig is listed in Brendan Breathnach's Ceol Rince na hÉireann (CRÉ) II, with the source given as Denis Murphy. It derives its name from Cordal, a village in Kerry, near Castleisland. The last tune is a composition of Paddy Taylor's, the London-based flute player originally from Loughill, Co. Limerick.
3 barndances: The Belle of the Ball, If There Weren't any Women in the World · We learned these two barndances from melodion/accordion player Charlie Harris, who lives in Ardrahan, Co. Galway. They were recorded by James Morrison under the names Belle of the Ball and Hayes Favourite in the 1930's. Gene Kelly recorded the set in 1976 with the more common names Sean Hayes and If there Weren't any Women in the World. According to Charlie, Sean Hayes led a music-hall dance band in the USA during the 1920's.
4 reels: The Boy in the Boat, The Boy in the Gap · These are two old favourites of ours. The Boy in the Gap was originally a two-part reel. In Breathnach's CRÉ I, the two-part version is given, while in the later CRÉ III, the three-part version is given which was transcribed from Paddy Taylor's playing on his The Boy in the Gap album (1970). Since then, this version has replaced the older two-part version.
5 planxty: Madam Maxwell · This O'Carolan composition was dedicated to the memory of Madam Maxwell, wife of John Maxwell of Farnham, Co. Cavan. He was an MP and later Baron Farnham. According to The Belfast Northern Star, it was played in competition at the Belfast Harpers' Festival of 1792. It is in Bunting's collection.
6 jigs: The Woods of Old Limerick, Statia Donnelly's · These beautiful jigs come from Bernadette McCarthy, who learned them when she lived in London, before returning to her father's (Tommy McCarthy) home area of West Clare, where she still lives and plays traditional music. The first tune is in O'Neill's Waifs and Strays of Gaelic Melody. Statia Donnelly was London-based fiddler Jimmy Power's grandmother. She was his source for this tune, which is a jig version of the song-air An Páistín Fionn. Jimmy Power recorded it on a long-unavailable LP, Irish Fiddle Player, on the Topic label in the 1970s.
7 highlands: Maggie Pickens, Barny Bhrianaí's · The first of these Donegal Highlands is a version of the well-known Maggie Pickens or Maggie Pickie, which also has words, and its own dance. Con Cassidy recalled Maggie Pickens being danced around a tongs laid out on front of the fire. Mickey Doherty was recorded playing it in 1949 to Conall Mac an Luain's dancing by Kevin Danaher and Sean Ó hEochaidh. The second is an unusual tune learned from Con McGinley, of Mín na Croise, near Glencolmcille. Con learned the tune from Barney Bhrianaí Molloy around 1930, when he was in his mid-teens. As he passed by Molloy's house, he heard the sound of Barney playing this highland through the open door and he picked up the melody. Con went to England in 1941, and still lives there. During one of his regular visits home, he remembered the tune and passed it to Ronan Galvin and Mick Brown. Barney's father Brianaí learned from John Mosie McGinley, and Barny's son, Pádraig, still lives and plays in the area, and has influenced younger players like Derek and Christina McGinley.
8 air: The Parting Glass · The song The Parting Glass is well known, but Dermy heard it sung to this air in the mid 1970s by Len Graham and Joe Holmes, from County Antrim, and it has remained a favourite of his since then.
9 reels: Miss McGuinness, The Stoney Steps · We put these tunes together for a TV recording with Andy Dickson on the Bring Down the Lamp series, recorded by Tony McMahon in Ballyshannon in 1986. The first reel is a version of a tune recorded by Michael Coleman in the 1920's. Dermy changed the setting to 'D' from the original 'G', which puts a different shape on the tune. He also changed The Stoney Steps slightly from the common setting to one more in keeping with the first reel.
10 hornpipes: Paul Ha'penny, The Plains of Boyle · Tara learned this version of Paul Ha'penny (or Poll Ha'penny) from her father, Leslie, who had previously learned it from a radio recording of flute player Billy Clifford. According to Bunting, (Breathnach, CRE III, 1985), it comes from an air, Mailí Nic Ailpín (Molly Mac Alpin), composed by the harper Liam Ó Conalláin, who was born in Cloonmahon, Sligo around 1645. The second tune is a very popular hornpipe recorded by Paddy Killoran and James Morrison in 1929.
11 jigs: Up and About in the Morning, An Rógaire Dubh · The first of these jigs is a tune we associate with the great piper Willie Clancy from Milltown Malbay, Co. Clare. The second is a popular jig which is played in A major, rather than the more common A minor, giving it a different feel.
12 polkas: The Return of Spring, The Mountain Path · These two polkas, learned in Fermanagh in the 1970's from the fiddler Mick Hoy, are fine examples of Fermanagh/Leitrim Polkas which have a slower tempo than the more well-known Cork/Kerry polka tradition. They were recorded by James Morrison in the USA in 1926.
13 reels: The Lady on the Island, The Sailor on the Rock · Denis Murphy and Julia Clifford included this selection on their landmark Star Above the Garter album in 1969. The first is in O'Neill's 1001. The second is associated with John McKenna, the Leitrim flute player who recorded it in the USA in the 1920's. It is listed in O'Neill's 1850.
14 jigs: Shandon's Bells, Condon's Frolics · Named after the famous steeple on the north side of Cork city, Shandon's Bells has been collected in New England and Canada, after making its way from Ireland. The second jig is in both O'Neill's 1001 and 1850 and was played by Francie 'Dearg' O'Byrne, the great fiddler from Kilcar, Co. Donegal.
15 reels: The Three Scones of Boxty, Little Katie Taylor · We learned these two obscure reels from Cathal McConnell, Josie McDermott and Patsy Hanley at a musical weekend in Cathal's home in Belnaleck, Co. Fermanagh, in 1975. Subsequently, they became popular around sessions in Belfast, and were recorded by Altan on their Horse with a Heart album (1989). Boxty is a form of potato bread made in the North of Ireland, which is devoured with great gusto by hungry musicians. Kevin Taylor told us many years ago, that his father, Paddy, composed the second tune and named it after Kevin's sister, Katie.
All tracks traditional, arranged by Tara, Dermy and Daithi except Track 1: The Cedars of Lebanon (© S Ryan), Track 2: Paddy Taylor's Jig (© P Taylor) and Track 15: Little Katie Taylor (© P Taylor).
About Dáithí Sproule: Dáithí has had a major influence on traditional music through his albums and performances with Skara Brae, Altan, Paddy O'Brien and James Kelly, Trian (Liz Carroll and Billy McComiskey), and Fingal. Dáithí has played with Dermy and Tara many times, most recently at a concert in Ionad Cois Locha, during the 2007 Frankie Kennedy Winter School, which was the catalyst for the making of the Seanchairde album.
Thanks to:
Danny and Helen, the Irish Traditional Music Archive, Ronan Galvin, Mick Brown, the Arts Council of Ireland, Tom Sherlock, Liz Welch, Nick Lethert, Lisa Richardson, and Anna and Mairéad Ní Mhaonaigh.
Recording: John Wright, What Studio, Savage, MN, USA Mastering: Garett Duffy, Westland Studio, Magennis Place, Westland Row, Dublin 2 Printing & manufacturing: Paul Waldron, All Write Media Ltd., 23 Marino Crescent, Clontarf, Dublin 3 Mixed by Tara, Dermy and Garett at Westland Studio Photography & design: Liz Welch & Nick Lethert · 3-Scones Music © 2008 · 3scones.com
We gratefully acknowledge support from the Arts Council of Ireland Deis Scheme for the production of this album.