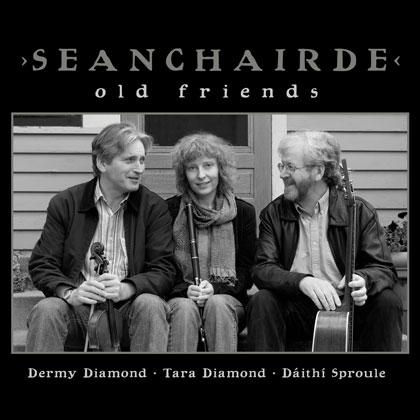 The fiddle-playing of Dermy Diamond is the revelation on this trio recording. Although a familiar figure on the Irish traditional music scene, this is the first recording that carries his name. Spontaneous, inventive, sometimes almost carefree, his busyness in the corners of tunes brings the fiddle to the surface of the music again and again.
Yet it is very much a trio album, and Diamond's playing is likely all the better for the comfortable group setting of wife Tara on flute and friend Daithí Sproule on guitar. All from Northern Ireland – Dermy, Belfast; Tara, Co. Down; Dáithí, Derry – the style of music on Seanchairde/Old Friends is less regional and more a reflection of thirty years of travel and sessions throughout the traditional music scene in Ireland.
-Toner Quinn, The Journal of Music
read more & purchase...